Tiger Sugar Malaysia (老虎堂): Tiger Sugar Malaysia Review
The Complete 2019 Tiger Sugar Malaysia Guide: Everything you need to know. Read reviews from customers, see the Tiger Sugar menu, and get opening hour and Tiger Sugar outlet Information. Use this guide to find nearby Tiger Sugar branches in Malaysia.
Find Tiger Sugar Near Me
Browse Our Guide
About Tiger Sugar Malaysia
Tiger Sugar (老虎堂) is a popular bubble tea brand orginating from Taichung, Taiwan. It is most well known for it's Brown Sugar Boba Milk drink. It currently has branches all over Asia, including Hong Kong, Singapore, the Philippines, and of course, Malaysia.
Tiger Sugar Malaysia first launched in February 2019. Their first outlet was in Sunway Pyramid and now they have opened multiple outlets across the Klang Valley.
Tiger Sugar Outlets - Find Branches Near You
Here is the full list of Tiger Sugar Malaysia outlets, updated on June 2019:
Tiger Sunway Pyramid - Address: Sunway Pyramid, LG1.022, Jalan PJS 11/15, Bandar Sunway, 47500 Petaling Jaya, Selangor.


Tiger Sugar Pavilion - Address: Pavilion TL 1. 109.00 Level 1, Elite, 168, Bukit Bintang Street, Bukit Bintang, 55100 Kuala Lumpur.


Tiger Sugar Sunway Velocity - Address: Sunway Velocity, Lot 2-35 Lingkaran SV Sunway Velocity Mall, 55100 Kuala Lumpur.


Tiger Sugar Sunway Giza - Address: Sunway Giza, Lot G-11, No.2, Jalan PJU 5/14, PJU 5, Dataran Sunway, 47810 Petaling Jaya, Selangor.


Tiger Starling Mall - Address: Starling Mall, Lot B-005, The Starling Mall, Damansara Utama, 47400 Petaling Jaya, Selangor.


Tiger Sugar Johor - Address: Lot G-44, KSL City Mall, 33, Jalan Seladang, Taman Abad, 80250 Johor Bahru, Johor.
We will constantly update this list whenever Tiger Sugar Malaysia announces new outlets so be sure to check back from time to time. Also, since some of our Bubble Tea Malaysia fans have asked, currently, there are no Tiger Sugar Penang and Tiger Sugar One Utama branches but we will update this space if there are any news of openings.
It is very easy to find Tiger Sugar near me using your desktop or mobile device. The fastest way is to Google the words "Tiger Sugar Near Me" or simply click this link.
After you click, Google is going to ask you for your location so it can show you the nearest Tiger Sugar Bubble Tea shops to you.
Click "Allow Location" and you will see the Tiger Sugar shops near you so you can pick a branch to have your bubble tea fix.
What To Drink At Tiger Sugar Malaysia?
If you make a visit to one of their shops, be sure to try the most popular drink at Tiger Sugar which is the Brown Sugar Boba Milk with Cream mousse (RM12.90)
Try their boba which are big and juicy! You can also have your drink with pearls which is like the smaller version of Boba depending on your preference.
How To Drink Tiger Sugar's Brown Sugar Boba Milk?
You can choose to have the pearls/boba cold or hot. Before drinking, you should invert the cup 15 times to ensure the ingredients are well mixed.
Note: You cannot control the sweetness of the Brown Sugar Boba Milk Drink. The sweetness is fixed to maintain the taste of their beverages!
Tiger Sugar Malaysia Menu
Here you can find the list of drinks of prices of Tiger Sugar Malaysia, updated as of June 2019.
Tiger Sugar Review / Tiger Sugar Rating
How would Bubble Tea Malaysia rate Tiger Sugar? Well, the folks here at Bubble Tea Malaysia would rate their most popular drink at 9/10. 9 Because the drink tastes delicious, they use a special japanese milk, and minus one point because you cannot control the sweetness. Overall, it is great.
To have a better idea, check out what people are saying about Tiger Sugar according to reviews on Google.
Tiger Sugar

Reviews From Google

Product:

Tiger Sugar
Rated
4.2
/5 based on
5
customer reviews
Not many people, except when it did. But the service is fast and good. The tea was not as delocious as I had in Taiwan or even in Korea. Probably because the cream mousse is not the same. So don't expect the same taste.
Pavilion less ppl q up .. love the milk tea but not the pearl
Make sure you shake 15 times! Authentic taiwanese brown sugar pearl milk. Signature brown sugar Boba milk with cream mouse. The more you shake, the more authentic the flavor and more 'qq' the pearls. Super chewy pearls, comes in large and small sizes. You get both chewy larger size bobas and smaller pellet size pearls. The black sugar essentially is gula melaka mixed with milk and cream. Pretty nice! Similar quality as Taiwan and Hong Kong Expect a queue as there are many people that order in bulk
With all the hype around this and after 3 outlets, I thought this should be something good. Went to the outlet in Pavilion after lunch one day and good thing the queue wasn't long. Like it for the fact that they use Meiji Milk. After about 20 minutes of wait, it was ok. Good not great. I feel the pearls need a bit of work.
Long wait & Service is quite slow and they have so many workers. But the taste is good and did not let me down. Recommended to drink it after 10 mins (Boba texture will be more chewy)
Is Tiger Sugar Halal Or Not?
According to this Twitter user which seeked clarification from Tiger Sugar, the response was their ingredients only consist of brown sugar, fresh milk and tapioca pearls. They are still preparing their certification.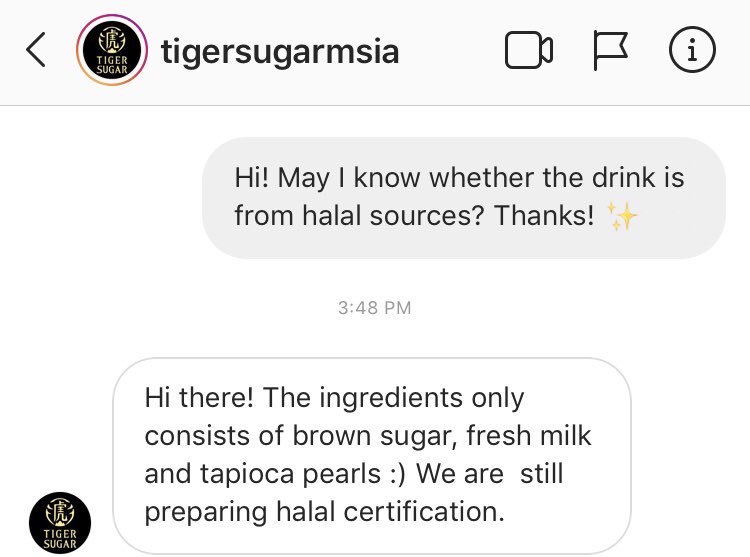 Hence, if you'd like to be double sure about the halal status, it is best to check with the shop when you make your order before you decide.
Tiger Sugar Delivery
Currently, we do not see Tiger Sugar delivery options available in food delivery apps such as Grab Food and Food Panda. Hence, if you would like Tiger Sugar bubble tea delivered to your doorstep, you might want to try a personal concierge service like GoGet.my.
Tiger Sugar
Opening Hours
Tiger Sugar Malaysia outlets are open daily from 10am to 10pm.
Open: Monday-Sunday 10am-10pm
Tiger Sugar Franchise
We did some digging and it seems you can enquire about franchising on their international website. To find out more visit their Tiger Sugar Franchise page.
Disclaimer: we are not affiliated or partners with Tiger Sugar's brand, we are just here to share information we found on the internet. Invest in business opportunities at your own risk.
Tiger Sugar Contact Information
Website: https://www.facebook.com/TigersugarMsia
Instagram: https://www.instagram.com/tigersugarmsia
Location: Multiple Locations (Click here to view)
Must Try: Brown Sugar Boba Milk With Cream Mousse
Disclaimer: Bubble Tea Malaysia is not affiliated and does not represent Tiger Sugar Malaysia. We are just an independent Bubble Tea blog who likes to review the bubble tea scene in Malaysia and share our passion for bubble tea. We will do our best to keep our information updated based on official sources :)